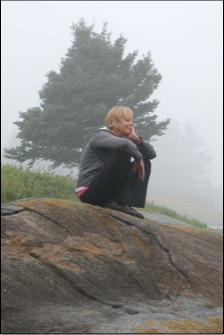 Kimball Jenkins School of Art Blog
I do a blog 5 days a week for the Kimball Jenkins School of Art. Each day I present an artist with a very brief write up and up to 8 images. I feature artists both famous and unknown, people whose work interests me. Sculptors, graphic novelists, painters, printmakers, craftspeople...anyone I fancy! You could sign up! It comes in an email at 6 am.
About Me
I like working with different materials. Different materials lead to different solutions. Different materials make you think differently. So my work is varied.
I work in oils outside in the sun and wind...and paint landscapes.
In the printmaking studio I work abstractly with monotype and create detailed creatures with etchings.
I work abstractly in black and with with yupo and ink.
I look forward to the days when I find myself moving things around without really knowing what's happening. I always marvel at writers who describe their characters taking on a life of their own...how they don't know where a story is going. I feel much the same about making pictures. It's a crapshoot. When it's going well it's great...much of the time it sucks...a slog through mud. But the days when it 'happens' are spectacular and keep me going.
Boston Voyager Interview: Art and Life with Ann Saunderson